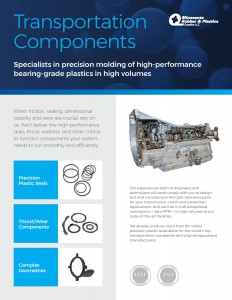 Rubber Seals & Plastic Parts
MYKE Technologies is pleased to announce our affiliation with Minnesota Rubber & Plastics (MR&P).
MRP have over 75 years of expertise producing sealing products for challenging environments, of unique shapes and configurations and specialty insert molding.
MR&P manufacture precision custom-molded rubber seals, standard quad and O-rings, liquid silicone rubber, rubber over-molded to metal, engineering plastics like PEEK, etc. for myriad applications used in Medical, Water, Food & Beverage and Transport industries requiring specialty compounds.
Their Standard size Quad and O-ring seals are normally stocked in standard compound materials with global shipping.
Common standard rubber materials include: 
NBR – Acrylonitrile Butadiene compounds;
HNBR – Highly Saturated Acrylonitrile Butadiene compounds;
EPDM – Ethylene Propylene Diene Monomer compounds;
FKM – Fluorocarbon compounds;
CR – Polychloroprene compounds;
VMQ – Silicone (peroxide cured);
FFKM – Perfluoroelastomers;
LSR – Liquid Silicone Rubber; 
PEEK – Polyether ether ketone; Torlon®, Aurum® PI and many more.
Rubber molding processes include: Compression; Transfer;  Injection.
MYKE Technologies are the South East Asia and Australasia sales representative of Minnesota Rubber & Plastics. If you have stringent sealing requirements please contact us.